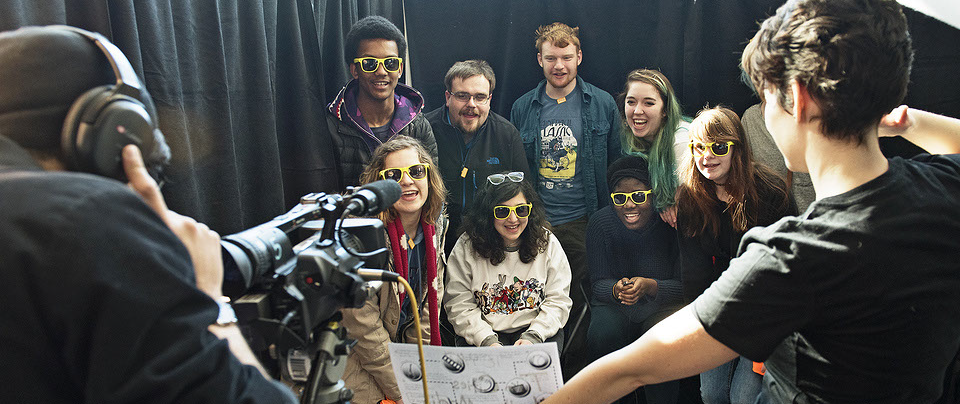 Photo: Angela Jimenez, ©Walker Art Center | Jordan (left) at the Twin Cities Youth Media Network Showcase, Walker Art Center 2015
Jordan spends his days as the Youth Media Coordinator at CTV North Suburbs where he directs the Youth Media Department and its award-winning CreaTV afterschool program. Jordan and his team develop and facilitate on-site and mobile workshops on media literacy and production for youth, helping teens write, produce and distribute their own short films and animations. Jordan's students have had their work screened at the Walker Art Center and in the Minneapolis St. Paul International Film Festival, and have been nominated for or received regional and national Student Television Awards from the National Academy of Television Arts and Sciences, among other screenings and accolades.

"I'm Happy" by Animation @ The Station 2016
(Recipient of National Academy of Television Arts and Sciences, Upper Midwest Emmy® Chapter: Student Production Award)
(Nominee of National Academy of Television Arts and Sciences: National High School Student Production Award)
For many of these youth and young adults, it is their first foray into media-making. Jordan facilitates workshops and classes on pre-production skills, camera and camcorder operation, lighting, audio, and editing using professional software—with some groups, they learn all of this and produce a documentary or narrative short in less than a week. Other workshops and partnerships last through the summer, semester, or academic year.
Jordan has also taught workshops for adults in collaboration with organizations including the Minneapolis Television Network and the Twin Cities Media Alliance.
A short collection of works made by Jordan's students and interns under his supervision: